13 Best Discord Music Bots in 2023 (Play Spotify, YouTube) – Techworm
Discord is one of the most popular chat services. When it launched in the Spring of 2015, it was meant to be a gaming voice chat, but now the instant messaging platform is used for everything from gaming to work.
You can easily build a community on discord with tons of features.
It provides free text, voice, and video chat. Moreover, you can also stream your screen.
One of the best features of discord is the ability to add discord bots which automates several processes, and tasks and enhances user experience.
Discord music bots are the all-time favorite of users as it allows them to play and listen to music in the background during chat sessions with friends.
With Discord users' favorite Groovy and Rythm music bots being shut down now, there is a need to find new discord music bots that are working now and can automatically play Spotify playlists or the latest music from Youtube and other music apps in high quality with pause and resume support.
You can easily use, start, stop, or pause commands for songs and music you are listening to.
Table Of Contents
FredBoat is one of the best discord music bots which supports a number of different websites. It can be used to play music from YouTube, Bandcamp, Soundcloud, Twitch and more. FredBoat also doesn't require you to use links, you can just input the name of the song and FredBoat will play it for you.
FredBoat also allows you to create playlists, which automatically plays the next song once the current one ends instead of you having to manually play a different song each time. What makes FredBoat one of the best discord music bots is the sound quality so you can easily listen to high quality songs, provided you have a stable internet connection.
Features:
MEE6 is a very capable music bot for Discord which not only lets you play music but also lets you do all kinds of other tasks such as search for different streamers and videos on Twitch and YouTube, make a levelling system for the server members and more.
MEE6 supports music playing from SoundCloud, YouTube, Twitch and more. Unlike with other bots, MEE6 allows you to drag and drop to rearrange songs and click to pause, play, and skip a song instead of writing commands. However, this feature is part of the premium plan.
MEE6 also has additional features such as Volume Boost, voting for your favorite songs, nonstop playback and more, which makes MEE6 one of the best discord music bots.
Features:
Aiode, previously known as botify, is one of the best Discord music bots to stream songs from Spotify. The music bot can directly search for songs in Spotify and play them. It also supports other music sources such as YouTube and Soundcloud.
Aiode allows you to create custom cross-platform playlists with songs from Spotify, YouTube, and Soundcloud. Aiode also lets you customize the bot invoke command. If you want to watch Twitch streams with your friends, Aiode also lets you play Twitch streams directly in your voice channel. What makes Aiode one of the best Discord music bots is that it is completely free.
Features:
Zandercraft is one of the best Discord music bots due to its capability to play high quality music. While Zandercraft is generally known for its productivity and fun features, Zandercraft supports playing music in XHD (Extra HD) and Hi-Fi which makes it a perfect Discord music bot.
This high-quality playback is helpful for audiophiles who want to listen to music with their friends and family but also want to maintain a fairly high music quality. Like other bots on this list, Zandercraft supports playlist, adding songs to a queue and more. So, if you're someone who want to listen to high quality music on Discord, then Zandercraft is one of the best Discord music bots for you.
Features:
Hydra is a great Discord music bot that offers tons of other features in addition to playing music. Hydra uses sources like YouTube, Soundcloud, Deezer, Bandcamp and more.
With Hydra, you can create playlists, loop and queue songs, search for song info and more.
You can also ban/unban members, announce the current song playing, set the DJ, etc. All those features come in the free version. The premium version of Hydra allows you to play 24/7, bass boost, change speed and volume and much more.
Due to its plethora of features in the free version, Hydra is one of the best Discord music bots you can add to your server.
Features:
ChampBot is one of the easiest Discord music bots, and like other bots on this list, it does much more than just music.
You can use ChampBot to check user activity and see a table of the most active users in the server, find past avatars, find past names, play games such as Akinator, Trivia, Casino games and more.
When it comes to music, ChampBot is pretty basic in what it does. It does the usual stuff like searching for and playing a song, adding songs to a queue, show the current playing song and more. ChampBot is one of the best Discord music bots if you want a multipurpose bot, however, if you want a music only bot then check out other bots on this list.
Features:
BMO is one of my favorite music bots for Discord since it comes with a plethora of features.
Like MEE6, BMO can not only let you play music but can also help in moderation, image search, utilities, starboard and more.
When it comes to its music playing capabilities, BMO can do all the basic stuff such as searching for songs instead of using links, easily playing songs, and adding songs to a queue. One thing you cannot do is create a playlist which is quite a bummer.
BMO is DMCA protected which means that it isn't infringing on any copyrights so it should keep working for a long time. BMO is one of the best Discord bots for Music not only because of its music playing functionalities but also because of its additional features.
Features:
Probot is another Discord music bot that does way more than just music. Probot can handle everything you need to make a perfect server.
You can use Probot to stream music from YouTube by just searching the name of the song. Like other bots, you can easily play, pause, and add songs to queue.
Probot also gives you moderation controls which you can use to ban/unban/mute members in your server.
This is helpful for servers with a large number of people. You can also make a custom level-system for your server. If you want moderation controls with your music bot, then Probot is one of the best Discord music bots
Features:
Like Probot, Vexera also offers moderation and is a great Discord music bot you can add to your server. Vexera also lets your send automatic greeting and farewell messages when someone joins or leaves your server.
In terms of music, Vexera allows you to playback high quality audio from Spotify, Soundcloud, Bandcamp, Twitch, and Vimeo. The playback works with almost no lag and is great for when you're listening to music with your friends.
Vexera also allows you to create a playlist but that is only available with the premium version. Despite that, Vexera is one of the best Discord music bots you can add to your server.
Features:
Chip Bot is one of the best Discord music bots solely focused on Music. Chip lets you play high quality, lag free music from various sources.
Chip includes the usual play, pause, queue songs and more. You can also view the lyrics of any song you want.
With Chip Bots premium version, you can listen to music 24/7 and even listen to 8D music.
The premium version also allows you to access features such as Bass boost, Vocal boost, treble boost, and the ability to change volume and speed. Chip is one of the best Discord music-only bots you can add to your server.
Features:
Next on the list, we have the feature-packed Jockie Music Bot. One of the most unique features of Jockie is its ability to have four instances. In simple terms, you can add a total of 4 Jockie bots to the same server. 
Using Jockie you can play music from many mainstream services like Spotify, Apple Music, YouTube, Deezer, TIDAL, Soundcloud, and many more.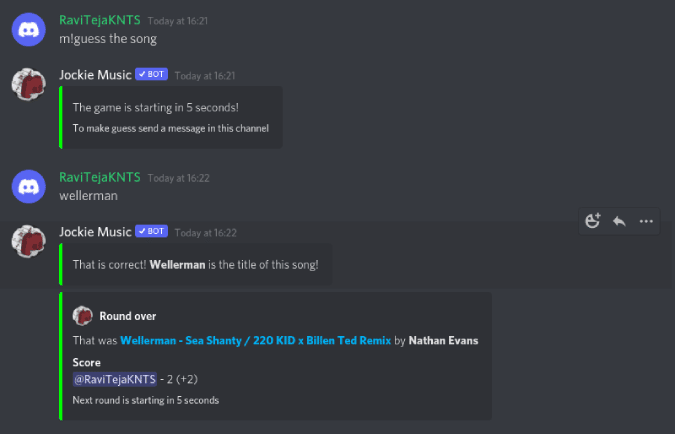 To trigger the Jockie bot use the prefix "m!play" followed by the music keyword or a direct link to music. 
Some cool audio effects offered by Jockie are bass boost, karaoke, 8D, tremolo, distortion, and echo. Overall, Jockie is an ideal music player for servers with many users.
Features:
Green-bot is another free discord music bot that offers high-quality music playback in your discord server. The 24/7 music bot can play music from mainstream services like Spotify. 
To add Green-Bot simply invite the bot to your server. Similar to Jockie, you can add a maximum of four instances of Green-Bot if you have a premium subscription. 
UPDATE: Green-Bot no longer supports Youtube.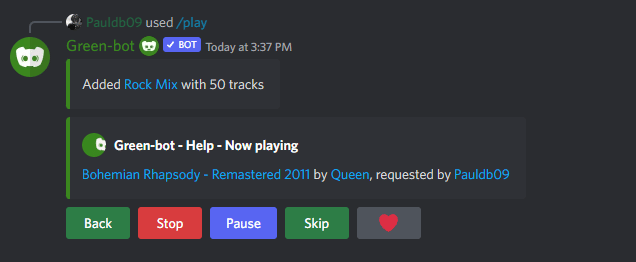 In order to use Green-Bot, you can join a voice channel and type *play music. Replace music with the music keyword that you want to play or a Spotify album/playlist link. 
A detailed command list can be found on the official Green-Bot website. 
Features: 
Last on the list of best Discord Music bots we have LunaBot. Well, LunaBot support every music streaming service you can think of like YouTube, Soundcloud, Spotify, Twitter, Insta, Vimeo, etc.


Arabic and English are the two languages supported by LunaBot. Luckily, LunaBot doesn't consume much bandwidth for its proper functioning and it offers optimal audio quality. 
To use the bot you can either use the prefix "!" or mention the bot. 
Features: 
Discord bots are third-party services that join your server and often features discord that doesn't. These bots can be used for moderation such as banning, muting, kicking rule breakers, playing fun mini-games, and more.
Discord music bots join your voice channel and play whatever music you want them to play.
To add discord music bots to your server, all you need to do is:
Note: You need to have Administrator or Manage Server permission to add bots to a server
While Discord music bots are not illegal according to Discord's terms of service. It does violate some of the music streaming platform's terms of conditions.
For instance, in past several bots have been banned and shut down by Youtube for violating its terms and service such as being used for commercial purposes and service modification without consent.
Conclusion
These were the best Discord music bots that still work and you can add them to your server to listen to music with your friends and family.
If you have any other suggestions, you can tell us about them in the comments below.
Visits:19
Today: 1
Total: 3237499