Berlin

Briefing
A weekly look at German politics
In this edition: The chancellor has a plan to make Germany great again; Germany vows to support Ukraine, despite waning public interest; it's time to prepare for a COVID-19 comeback … and climate activists and artists team up to save Berlin's club scene.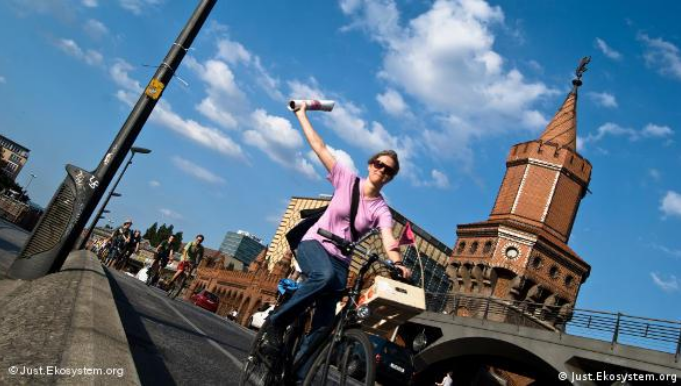 Berlin's sunny summer weather has brought cyclists and tourists to the streets of the capital
Willkommen to DW's Berlin Briefing
Chancellor Olaf Scholz likes to coin phrases that ring with decisiveness and optimism: Russia's war on Ukraine triggered a Zeitenwende (a turning point), subsidies to tide over businesses and the population in times of pandemic and inflation were termed the Wumms and then the Doppelwumms (double whammy), and when he wanted to address Germany's problems with new urgency, he introduced the Deutschlandtempo (Germany speed).

And now Scholz has introduced the Deutschlandpakt (Germany Pact) which is to bring together the federal government, the opposition, and regional and local leaders to reinvigorate and modernize the country, and spur economic growth.

"The citizens are fed up with this standstill, and I am too," Scholz told the federal parliament, the Bundestag, last week. He spoke of a "mildew of red tape, risk averseness and despondency" that had weighed down Europe's largest economy in recent years.

DW's Sabine Kinkartz looked into the "Germany Pact": Is there real substance?

While most laws get passed at the federal level, it is the states and municipalities that have to enforce them. Political analysts are pointing out the German appetite for justice for every special case, no matter how complicated, and the desire to eliminate risks — or at least to hold someone responsible after the fact for having transgressed a regulation.
The center-left government, which took office in December 2021, is seen to constantly be mired in Hickhack (bickering) over every measure they seek to implement.

This has been crushing their approval ratings.

More than almost any other draft law, the Heizungsgesetz (Heating law, or Building Energy Act) stirred up public sentiment. Green Party Economy Minister and Vice-Chancellor Robert Habeck came under attack over measures that the tabloid Bild termed "Habeck's heating hammer." Protesters took to the streets demanding free choice of heating as a basic right.

Now, months of squabbling are over — the Bundestag has passed the revised package of laws.

They stipulate that from January 2024 every newly-installed heating system should be operated with at least 65% renewable energy. This will gradually increase the amount of renewables used to heat buildings and gradually phase out gas and oil for heating by 2045.

A whole raft of exemptions and subsidies were added to the original draft so that no one would suffer an "unreasonable hardship."

More than half of German buildings are currently heated with natural gas, and the transition will take years.
Faint war fatigue is spreading in Germany. While early this year, 25% of respondents in the monthly Deutschlandtrend survey ranked the war in Ukraine as one of Germany's most urgent problems. By the end of August, that number had dropped to just 9%.

Still, support for the Ukraine war has been locked into the budget planning for the next few years. Finance Minister Christian Lindner told the Bundestag last week that helping Ukraine is "in our own national political interest," as Ukrainians are fighting for "the order of peace and freedom in Europe as a whole."

Around €22 billion ($23.6 bn) have flowed from Germany to Ukraine since the start of the war. Added to this is the cost of hosting more than one million Ukrainian war refugees in Germany, borne primarily by the states and local authorities.

Germany is now the second-largest contributor of arms to Ukraine.

But not everything that was pledged has been delivered yet. And Berlin is seen to be dragging its feet again. This time over the delivery of Taurus missiles requested by Kyiv.
The number of COVID-19 cases is slowly increasing again in Europe. Germany is no exception.

The country is still grappling with the long-term fallout of the pandemic. Health Minister Karl Lauterbach is debating how to improve treatment for Long Covid patients.

But the measures to stem the spread of the virus have long been lifted, and the demand for booster vaccinations has dwindled.

Now, in response to reports of a new variant spreading and the colder winter months approaching, many are beginning to consider bringing out the masks again.
Berlin's clubs fighting for their future
Do you have questions about Germany?
If so, drop us a line and we'll try to answer them in an upcoming newsletter.