Warehouse Automation Market Size Expands More Than 2.5X to … – GlobeNewswire
| Source: BlueWeave Consulting and Research Pvt Ltd BlueWeave Consulting and Research Pvt Ltd
Noida, INDIA
New Delhi, May 24, 2023 (GLOBE NEWSWIRE) — Global warehouse automation market is flourishing because of growing adoption of automation technologies to improve warehouse efficiency, shortage of skilled labor and rising labor costs, and increasing demand for e-commerce and online shopping.
BlueWeave Consulting, a leading strategic consulting and market research firm, in its recent study, estimated global warehouse automation market size at USD 15.56 billion in 2022. During the forecast period between 2023 and 2029, BlueWeave expects global warehouse automation market size to grow at a robust CAGR of 15.8% reaching a value of USD 41.46 billion by 2029. Major growth factors of global warehouse automation market include increasing demand for faster and more efficient delivery of goods, the rising labor costs, and the need for optimized inventory management. The global expansion of the e-commerce sector and the increasing demand for effective inventory management and warehousing are propelling the growth of the market under consideration. The implementation of automation in warehousing offers a high degree of convenience, resulting in lower business costs and fewer errors in the delivery of products. Also, the widespread adoption of automation and robotics technology in the industrial sector has significantly bolstered the demand for warehouse automation on a global scale. In order to enhance operational efficiency and ensure the safety of workers, businesses are increasingly opting for advanced components, such as RFID tags, sensors, and scanners. These innovative technologies are capable of monitoring inventory in real-time, thereby streamlining the logistics process and minimizing manual errors. As a result, technological advancements are serving as a key driver of the market's substantial growth. However, high initial investment costs for implementing warehouse automation technologies and concerns over data security and cyber threats are anticipated to restrain the overall market growth.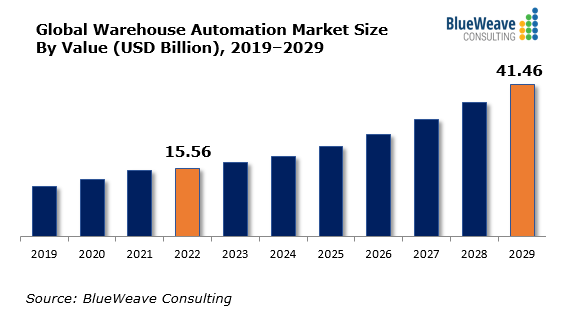 Global Warehouse Automation Market – Overview
Warehouse automation refers to the various modern modifications made in a warehouse setting. The process utilizes technological advancements and equipment to automate repetitive warehouse tasks, reducing the need for manual labor, and increasing efficiency. Warehouse automation encompasses all the necessary hardware, software, personnel, and procedures required to automate warehouse tasks and achieve greater precision and efficiency. The tasks that automation can streamline range from inventory labeling to collecting warehouse data, automating item storage and retrieval, and generating reports for back office use. Automation is particularly useful for tasks that involve repetitive labor. Furthermore, modern technologies, such as drones and machine learning, open the door for automation systems to perform more complex tasks that are not repetitive in nature.
Sample Request @ https://www.blueweaveconsulting.com/report/warehouse-automation-market/report-sample
Impact of COVID-19 on Global Warehouse Automation Market
COVID-19 pandemic initially affected the growth of the global warehouse automation market, due to supply chain disruptions and reduced demand. However, as the pandemic progressed, businesses began to invest in warehouse automation solutions to improve efficiency, reduce labor costs, and increase safety measures for workers. The pandemic also accelerated the adoption of e-commerce, leading to a surge in demand for warehouse automation technologies. Despite the pandemic's negative impact, it ultimately resulted in a positive impact on the warehouse automation market as businesses recognize the importance of these technologies to enhance operational efficiency and adapt to changing market conditions. The pandemic has also highlighted the need for resilient and flexible supply chains, which can only be achieved by implementing advanced warehouse automation solutions. Companies are likely to continue investing in warehouse automation technologies in the post-pandemic era, driving the market's growth.
Please Visit the Press Release: https://www.blueweaveconsulting.com/press-release/global-warehouse-automation-market-size-expands-more-than-2-5x-to-touch-usd-41-5-billion-by-2029
Global Warehouse Automation Market – By Application
Based on application, the global warehouse automation market is divided into Automotive, Food and beverage, E-Commerce, and Pharmaceutical. The e-commerce segment holds the highest market share due to the widespread adoption of warehouse automation in e-commerce facilities, as vendors become more aware of the benefits of robotics in various aspects of e-commerce fulfillment. The use of warehouse automation in e-commerce applications is also becoming increasingly popular, due to the growth of e-commerce activities and the expanding use of robotics technology in e-commerce warehouses. Therefore, the advantages that warehouse automation offers to e-commerce fulfillment centers are expected to generate a significant share of profits, driving the growth of this segment during the forecast period.
Competitive Landscape
Major players operating in global warehouse automation market include Dematic Corp., Honeywell Intelligrated Inc., Swisslog Holding AG, Daifuku Co., Ltd., SSI SCHAEFER AG, Murata Machinery, Ltd., Vanderlande Industries Holding BV, KNAPP AG, BEUMER Group GmbH & Co. KG, Fives Intralogistics Corp., Siemens AG, GreyOrange Pte. Ltd., KUKA AG, Bastian Solutions LLC, and System Logistics Spa. To further enhance their market share, these companies employ various strategies, including mergers and acquisitions, partnerships, joint ventures, license agreements, and new product launches.
Don't miss the business opportunity in the Global Warehouse Automation Market. Consult our analysts to gain crucial insights and facilitate your business growth.
The in-depth analysis of the report provides information about growth potential, upcoming trends, and statistics of Global Warehouse Automation Market. It also highlights the factors driving forecasts of total market size. The report promises to provide recent technology trends in Global Warehouse Automation Market and industry insights to help decision-makers make sound strategic decisions. Furthermore, the report also analyzes the growth drivers, challenges, and competitive dynamics of the market.
Recent Developments
Scope of the Report
By Component
By Application
By End User
By Region
Please Find Below Some Related Topics:
About Us 
BlueWeave Consulting provides comprehensive Market Intelligence (MI) Solutions to businesses regarding various products and services online and offline. We offer all-inclusive market research reports by analyzing qualitative and quantitative data to boost the performance of your business solutions. BlueWeave has built its reputation by delivering quality inputs and nourishing long-lasting relationships with its clients. We are one of the promising digital MI solutions companies providing agile assistance to make your business endeavors successful.
Contact Us:
BlueWeave Consulting & Research Pvt. Ltd
+1 866 658 6826 | +1 425 320 4776 | +44 1865 60 0662
info@blueweaveconsulting.com
https://www.blueweaveconsulting.com/
https://www.linkedin.com/company/blueweaveconsulting/